"Outsourcing? …we've tried that once and we'll never do it again"
If I had a dollar for every time I've heard that statement, I wouldn't need to work another day in my life. Don't get us wrong, working with freelancers can and will have its pitfalls. However, with an estimated 53 million freelancers in the U.S. alone and over 50% of agencies already outsourcing SEO and web development, know that the problem isn't them…it's you.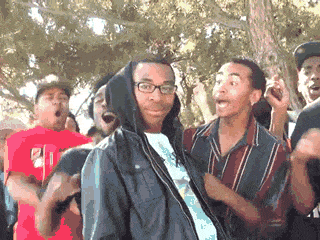 So what can you do about it?
Embrace it and capitalize on it.
The freelance economy is not only here to stay, it's BOOMING. The chart below from Indeed.com reveals the hockey-stick growth it's been experiencing over the past decade, projecting that over 50% of the U.S. workforce will be freelance by 2020.
Over 50% of the U.S. workforce will be freelance by 2020.
This presents an incredible opportunity for digital agencies like ours to build operations around this inevitable shift.
We've spent the past 2 years building Junto around the notion that the freelance economy is the future of our industry. In the process of developing our Agency 2.0 process, we've made mistakes and false assumptions, but learned from them every step of the way. If you're planning to take the leap and work with freelancers, below you'll find our 9 most valuable takeaways from making this transition ourselves.
So how can agencies leverage the freelance economy?
Build systems to mitigate risk
Just as you would with any new hire, be cautious of the tasks you assign new freelancers to.
Would you give a complete stranger the task of launching a new site on your server?
…that was a trick question.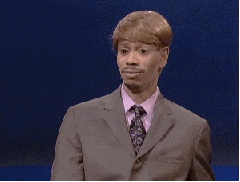 We've learned to love the permissions that Google drive has to offer, allowing us to hide access to important documents such as client credentials and agreements.
For those in the process of testing out a new hire, consider using lower-risk projects such as a simple landing page or other one-off tasks. If there aren't any other projects to test them on, consider an earlier check-in on a project timeline to ensure everything is up to par with your expectations.
In the unfortunate event that the relationship with a new freelancer doesn't go as planned, always have a plan B. Whether it's falling back on an employee in-house or bringing in another trusted resource to help, always make this decision early enough to keep everything on track for the client.
Templatize processes for everything you do
Many of the world's largest companies templatize anything and everything they can for new hires. Not only does templatizing processes maintain consistency, it also makes scaling much easier since new hires require less one-on-one training.
We've templated everything from our development to our quality assurance processes to ensure any new freelancer has a full understanding of our expectations.
Appoint a head of freelance management
It can be difficult to avoid communication breaks within your office, let alone with a team that's fragmented across the globe. Appointing one person to manage freelancers is crucial to keep project communication and management in check.
Identify your "go-to" communication tools
Skype and Slack are our "go-to" tools for real-time chat. Whether we're coordinating a site launch or catching up on the status of a project, we're always leaning on these 2 tools for quick response times. Despite Slack's rising popularity, we still prefer Skype for most of our daily communications.
No matter what tool you end up using, you'll quickly learn that more complex tasks are almost always easier to explain over a recorded screencast. When in doubt, use a tool like Screencast-O-Matic to send screencasts and a voice recording. You can even password protect them when needed.
Dedicate comm hours for time zone overlaps
Working with people all around the world can mean that they're getting to work when you're sipping on that happy hour margarita. Whether it's first thing in the morning or at the end of the day, find a time zone overlap that works best with both schedules to discuss project initiatives.
Our freelance team is 15 people strong and growing, so it's imperative that we dedicate time blocks throughout the day that allow us to receive instant feedback on important items such as upcoming to-do's, project estimates, launches, etc.
Build a bulletproof vetting process
With 53 million freelancers in the U.S. alone, you'll quickly learn that vetting the right talent can become an arduous process. If you're hiring for a web development project, think about the specific skillset you'll need to make it a success. Does it need to be built on WordPress? Do they have a strong UX/UI background? Questions like this will help you to quickly eliminate unqualified prospects.
Our team's process is far from perfect, but we almost always start our search with a reputable freelance marketplace such as Upwork or Guru. When using these tools, the advanced filters will quickly become your best friend.
Everyone's criteria will be different, but we always require that they speak fluent English and work as an independent freelancer, as opposed to an agency.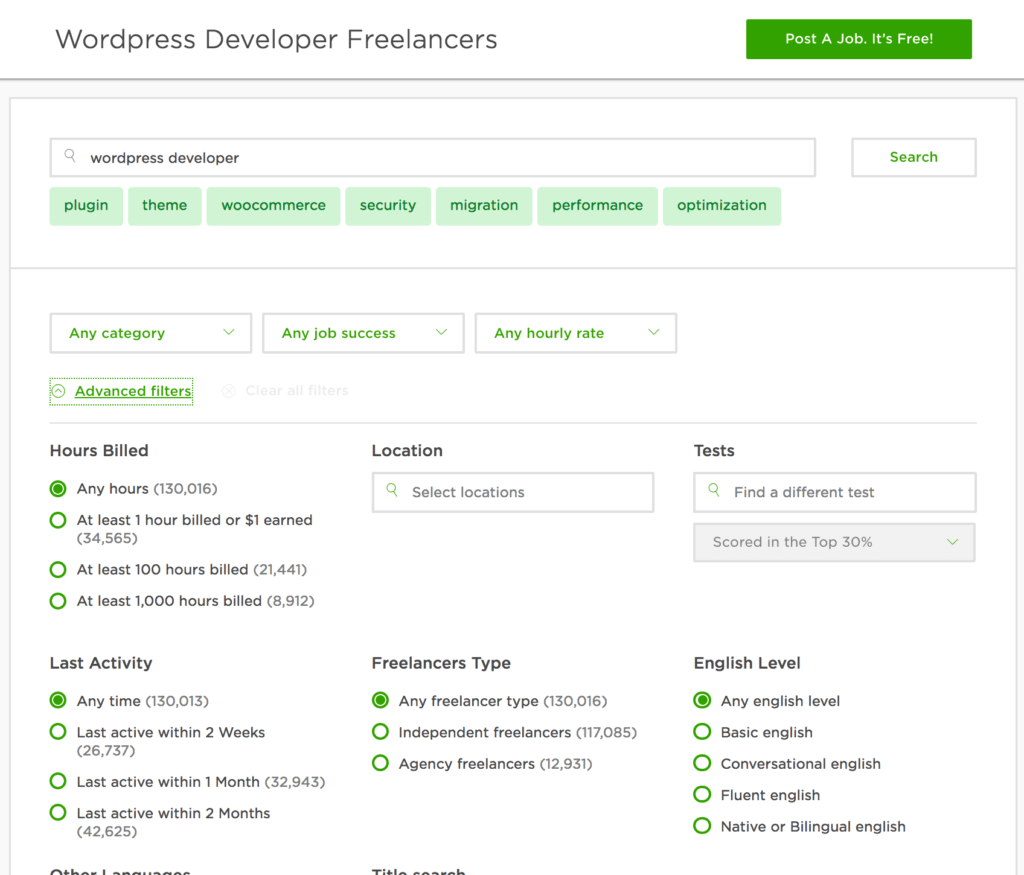 Once we've invited a handful of prospects to a project, the vetting process is far from over. From there, we'll chat directly with the freelancers to qualify them further based on their personality and response times. For development hires, we then invite a selected few to a complex test project which we've designed specifically for new hires to test their abilities. If we're satisfied with the quality of code, communication, and other elements we're looking for we'll then add them to our resource database for future projects.
Also see: 8 Proven Tactics to Better Manage Freelancers
Identify roles and decisions that should stay in-house
To most agencies, a website is much more than choosing a theme, swapping images, and pushing it live. Consider what roles and decisions should stay in-house when working with freelancers.
As digital agencies, we're the experts in CRO, SEO, and UX/UI. Don't leave decisions that will make or break the performance of a client's new website up to a freelancer. Our advice is to manage any strategic decisions in-house and outsource anything related to execution/production after everything else is spoken for.
To hit this point home, each website we send to our freelance team includes a functionality and specifications document. This document outlines the company profile, its target market, and the goals with each new page on the site. Under each goal, we include necessary elements to incorporate, such as CTA's, contact forms, etc. This ensures that most, if not all strategic decisions are spoken for so the freelancer can focus on the tasks that they do best.
Define a universal project management system
Whether we're building a website or implementing an SEO foundation, we use Teamwork for every step of our production process. We prefer Teamwork because of robust functionality that allows us to manage all of our to-dos, while creating easier access to relevant client assets.
No matter what project management system you prefer, be sure that your freelance team can quickly learn how to use it effectively.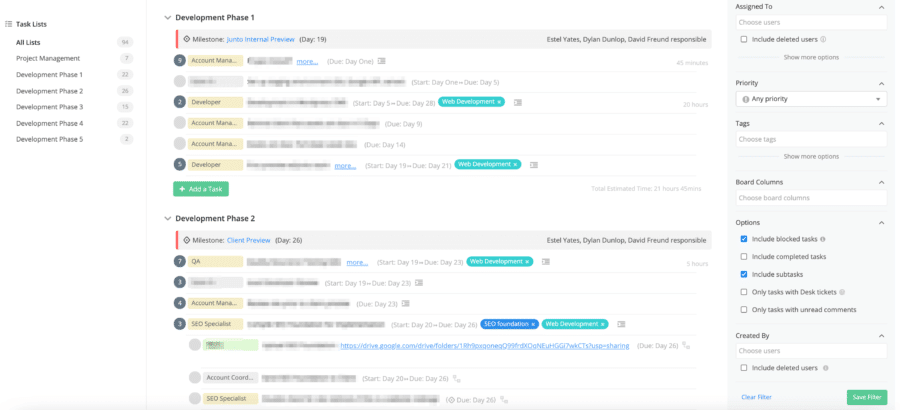 Keep a database of your team
Keeping a mental record of freelancers around the globe can quickly become a daunting task.
Any individual who passes our vetting process is immediately added to a resource database. This is our "go-to" in the early stages of any new project to determine who would be the best fit.
We have an ever-growing list of WordPress developers, designers, writers, and QA testers from all over the world. We'll also include relative information such as specialties, preferred communication tools, email address, Skype ID, active hours, and hourly rate.
Below is a screenshot of our entire team database: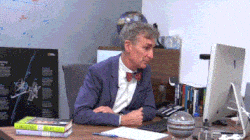 Come on – did you really think we were going to give that away?
Did you find this article helpful? Then sign up to receive insights like this every month. If you're new to working with the freelance economy, don't hesitate to reach out to me directly with any questions. We'd love to share any insights along the way.
SCALE YOUR ORGANIC TRAFFIC
Subscribe to our monthly newsletter