There are two obvious reasons why SMB advertising is harder than corporate advertising:
Smaller marketing budgets.
Smaller teams.
Most small-to-midsize businesses just don't have the budget for Super Bowl commercials or celebrity endorsements.
Most are working with a relatively small marketing department, too. There are limits in terms of how much advertising content they can even produce.
You don't need a million-dollar budget or an army of marketers to reach your ideal client, though. You just have to be strategic.
(Trust me, our marketing team has less than 20 people, and we see unbelievable results from our work.)
So let's talk about SMB advertising and how you can get your brand in front of more people.
---
Quick Question: Is There a Difference Between Marketing and Advertising?
We get this question a lot, mostly regarding our content marketing services.
So what is the difference between marketing and advertising?
In short, marketing is a broader practice that includes all branding and promotional activities. Everything from package design to logo design to UX and PR falls under the "marketing" umbrella.
Even product design is considered a part of marketing. After all, you want to make sure your product reflects the identity you've chosen for your brand.
Advertising, on the other hand, is the practice of promoting your products. It's about getting your goods or services in front of your target customer and letting them know that you have the solution to their problem.
You hear them used interchangeably (I'll probably do that in this article just to avoid repetition), but that's ultimately the difference.

---
SMB Digital Marketing Tactics
The internet offers an endless number of channels for advertising your business. From small-scale social media promotion to paid influencer video campaigns, you're only limited by your budget and your imagination.
Let's talk about the most popular digital marketing tactics you can use to advertise your SMB:
Content marketing
Review Marketing
Pay-per-click advertising
Social media marketing
Email marketing
---
Content Marketing
Content marketing is the practice of using online content to engage your customers and potential customers.
The term "content" can mean any number of things:
Text: Blog articles, case studies, etc.
Images: Infographics, photos, etc.
Videos: How-to's, webinars, etc.
Sounds: Podcasts, etc.
Whichever form your content takes, the goal is to create valuable resources that people can use and share.
The Value of Small Business Content Marketing
There are a few reasons why content marketing is a valuable SMB marketing tactic:
Builds Brand Awareness
If someone finds your content valuable, they're likely to share it with at least one friend. And maybe that friend will even share it.
The right piece of content can help you grow your audience exponentially.
Attracts Qualified Leads
Publishing content on your website is a great way to bring people to your website, especially people who might be interested in your product.
72% of marketers say that content marketing generates more leads for their company.
Optimize Your Website for Search Engines
Content marketing and SEO go hand in hand. Not only can blog articles and other forms of website content be valuable resources for your audience, but they let Google know exactly what your site is about.
As your website content sees more engagement and generates more backlinks, Google will see that you're an expert in your industry and place you higher up in relevant search queries.
We can help you create SEO-centric blog content that drives organic traffic to your site and helps you generate leads. Check out our 
content marketing services
 page to learn more about how we work.
---
Review Marketing
Customer reviews might not seem like a form of advertising, but they can actually have a big impact on your business.
72% of consumers won't buy anything without reading at least one review or testimonial, so it's crucial to have reviews out there for potential customers to read.
Gathering reviews is completely free, too. You can set up a Yelp page or Google My Business page in just a few minutes for no charge.
Then, you can build a process for collecting feedback from customers. For example, you might consider offering discounts and perks to customers who take the time to leave reviews (they'll come in naturally, of course, but this can help speed up the process).
Do Reviews Affect SEO?
Yes, reviews can have a big impact on your search rankings.
Google and other engines look for businesses with a lot of engagement around them, and reviews are one form of engagement. Even if you have some negative reviews (don't worry, it happens to everyone), Google will see that people care about your business, and they'll be more likely to push you toward the top of location-based searches.
---
Pay-Per-Click (PPC) Advertising
Pay-per-click advertising is a marketing tactic in which you pay to have your ads displayed on certain platforms. It's called "pay-per-click" because you pay every time someone clicks your ad.
Google Ads is probably the most well-known PPC channel. Those are the sponsored sites that show up at the top of the search pages, like this:
Social media ad platforms bill you per click, too. Facebook Ads, Instagram Ads, and LinkedIn Ads are all PPC.
What's the Difference Between PPC Advertising and Content Marketing?
Pay-per-click ads are basically a way to pay for website traffic. Content marketing is a way to generate organic website traffic.
Because PPC ads put you at the top of the SERPs right away, they're good for generating a lot of traffic fast. Content marketing is slower and requires a lot more time and effort.
However, good content yields long-term results. The top 3 results on a Google search get 75.1% of all the clicks, so if you can get your site into one of those spots for a popular search, you'll see a lot of traffic for a long time.
The same can't be said for PPC ads. As soon as you decide to stop paying for ads, all of the traffic stops.
Now, that's not to say that PPC ad campaigns can't be valuable. They're actually very good for new businesses, as they can drive traffic to your website while you build out your content.

---
Social Media Marketing
Social media marketing is a lot like content marketing, except you're creating and sharing exclusively on social media platforms.
And with 4.2 billion people (more than half of the world's population) on social media, every company should include it in their marketing strategy.
Why Social Media Is Valuable for SMBs
There's an endless number of benefits to social media marketing, including:
Direct Audience Interaction
Social media allows you to build authentic relationships with your customers and prospects. You can respond in real-time to questions and comments to show your audience that you genuinely care about their experience.
Non-Invasive Advertising
Facebook, Instagram, and other platforms let you show off your new products right within the feed. If someone follows you on social media, they're interested in your products, so you don't have to worry about annoying them with promotional content.
Content Promotion/Traffic Generation
Products aren't the only thing you can promote on social media — you can also direct your followers to the content on your website or elsewhere. It's a great way to drive traffic to your website.

---
Email Marketing
As the name suggests, email marketing is the use of email for advertising purposes. It's a useful tactic that allows you to maintain contact with past customers and market to potential buyers.
There are a lot of powerful but easy-to-use email automation platforms out there that make this type of marketing easier than ever. Programs like Drip, ConvertKit, MailChimp, and Constant Contact allow you to schedule emails to send out to specific subscribers based on their interests.
For instance, if one of your subscribers keeps returning to your website to look at a specific product, your automation software can send them a "nudge" email — or even a promo code — to encourage them to buy.
How Do You Collect Emails for a Marketing Campaign?
There are a few ways to gather email subscribers for your mailing list:
Place a mailing list signup form in the footer of your website.
When customers are completing a purchase, ask them if they want to subscribe to your mailing list.
Offer gated content (like ebooks, case studies, etc.) in exchange for emails.
Make sure not to spam your subscribers with an overload of messages, or they'll quickly unsubscribe.
Don't buy mailing lists from sketchy websites, either. Bothering innocent people with emails they didn't ask for isn't going to do you any good.

---
What About Traditional Advertising?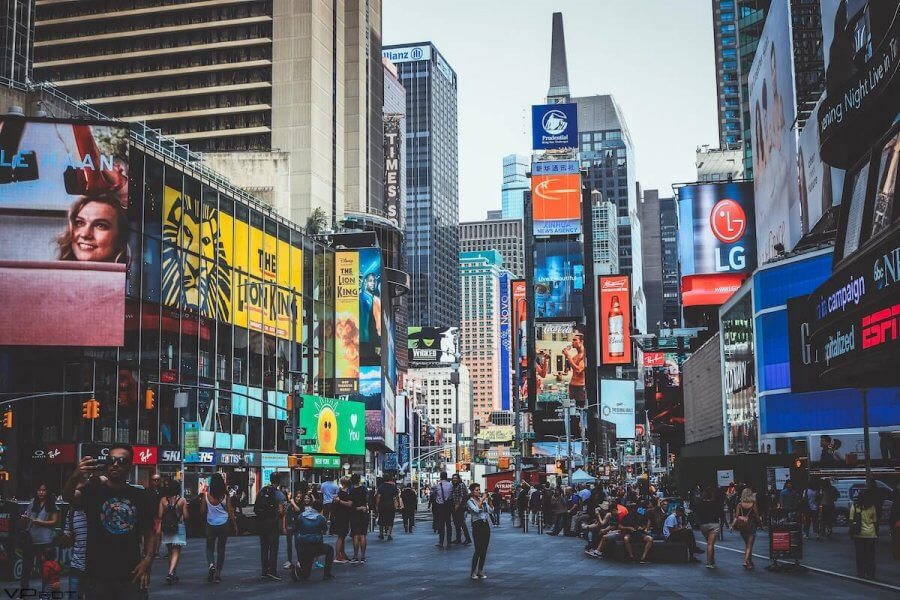 Digital marketing isn't the only way to advertise your SMB. There's obviously a whole slew of more "traditional" advertising techniques, such as:
Newspaper ads
Billboards
Direct mail
Etc. …
Despite the fact that the internet is a ubiquitous part of our lives, these are still the techniques that some people think of when they hear the word "advertising."
Is Print Advertising Dead?
According to a study published by Amy Watson, the average person spends only 318 minutes a day engaging with traditional media (but spends 482 minutes engaging with digital media).
It's no surprise, then, that digital ad spending has outranked traditional ad spending since 2019. By 2023, according to eMarketer, digital will account for two-thirds of all media spending.
So, while print advertising hasn't (and probably won't ever) flatlined completely, it's certainly not as effective or popular as it once was.
Print vs. Digital Advertising
Although we certainly aren't in the heyday of traditional advertising, print can still be an effective technique, especially for local businesses.
Think about takeout menus, for example. Most homes have at least one in a kitchen drawer or hanging on the fridge.
Branded merch, too. On my desk right now, I have pens from four different local businesses sitting in a coffee cup from my local bank.
Print ads are certainly good at finding a home in your life so you never truly forget about the company or products they're promoting.
However, digital marketing has a few features that traditional ads just can't compete with:
Measurability
Measuring the success of a print media campaign is very difficult. It's impossible to know how many people drove by your billboard or saw your newspaper ad.
Sure, you could use the old "Mention this ad and get 50% off" technique to glean some idea of your campaign's success rate, but you're always dealing with estimates.
Digital marketing allows you to collect data on every aspect of your campaign, from open rates to click-through rates to conversion rates. You can track everything from how long people are engaging with your content to how they're moving their mouse cursor around on your website. This type of information is invaluable for marketing, allowing you to make better, more successful content.
Flexibility
Most forms of content can be changed in real-time whenever you want. As you learn from the data your campaigns generate, you can adjust your content accordingly.
Traditional ads don't tend to work that way. Billboards stay up for the duration of your rental. Newspaper ads run for set periods of time. You'll have to wait until your campaign ends to make any adjustments.
Customizability
Digital marketing offers a lot of options in regards to how and where your ads appear to your audience.
Some digital marketing channels can even be customized for each individual. As we discussed above, automation software allows you to build hyper-targeted email marketing campaigns.
And with ad remarketing, you can advertise to people who've abandoned their carts on your website. Your ad platform will display banner ads on other sites to redirect them back to your site.
Reach
If you grade digital and traditional marketing tactics based on the number of people they're able to reach per dollar spent, digital marketing is far more cost-effective.
3.5 billion Google searches occur every day. 1.66 billion people shop online every year. Instagram has 1 billion active users, and 81% of them say they use it to research products and services.
That's a lot of potential customers for you to connect with.
Yes, print marketing is a good way to connect with folks in your city. But if you run an ecommerce business or want to expand your client base to include people outside of driving distance, digital advertising is the way to go.
---
We love helping small businesses make a name for themselves in their industries.
Whether you're a one-person ecommerce startup, a local restaurant chain, or any other type of SMB, we want to see you thrive. Our data-driven approach to content marketing and search engine optimization may be what you need to start driving traffic to your website.
Want to see what it looks like to partner with our team to get more customers? Talk to Intergrowth to learn about driving through leads about content marketing, or talk to Interweb to learn about converting more website visitors into leads.
SCALE YOUR ORGANIC TRAFFIC
Subscribe to our monthly newsletter