Investing in growing your business is no easy feat.
In a world where business owners need to decide between hiring a salesperson and investing in dozens of different types of offline and digital marketing channels, the options can seem overwhelming.
Here, we delve into why SEO is the best investment that you can make in your business and talk about the ROI of investing in SEO.
We'll give a brief overview of what SEO is, talk about why it matters, and break down the customer growth that you can expect to see from focusing on SEO.
From there, we'll compare the ROI of SEO to the ROI of PPC to help you understand which investment makes more sense for your business. We'll wrap up with a timeline of when you can expect to make back the money that you invest in SEO.

---
What is SEO?
SEO, or search engine optimization, is an approach to marketing that helps your business show up at the top of search engine results pages (SERPs) when potential customers are looking for you online.
---
Why SEO Matters
A 2018 study conducted by SparkToro revealed that Google is the single-largest traffic driver to websites. Google accounts for 57.8% of total referral traffic for the average site (10x the traffic that Facebook drives to the average site).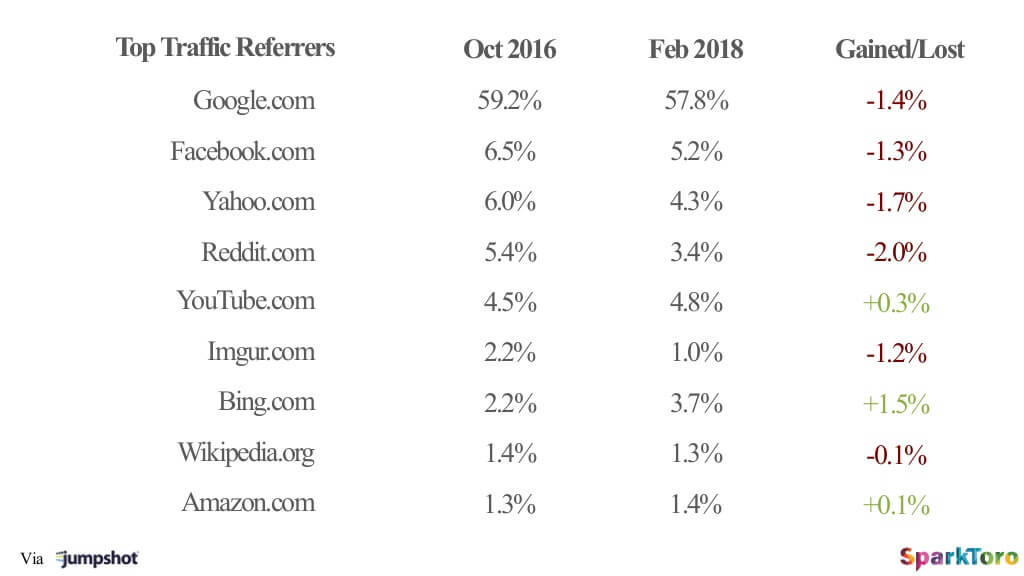 In other words, if you're going to invest in one marketing channel, you should invest in SEO.
If that wasn't enough, here are a few additional stats about the value of SEO:
---
How Do You Calculate the ROI of SEO?
"Ok, so you've sold me on SEO," you might be thinking, "but how do I calculate the return on investment to justify the costs?"
Costs of investing in growing your organic search traffic will vary significantly, depending on whether you decide to hire a marketing agency, an in-house marketer, or take a do-it-yourself approach to SEO. Within that, prices will vary significantly from one agency to the next.
We'll get into SEO costs in a minute (you can jump to that section if you prefer), but let's start with the value of SEO and talk about how SEO drives sales to see why you should incorporate SEO in your marketing strategy.
We'll take a look at the ROI of ranking for one sample keyword.
SEO ROI of One Keyword
The best way to understand the ROI of SEO is through an example keyword.
Let's say that your goal is to rank 1st on Google for the phrase "downtown Denver apartments." 1,000 people search for this exact query every month (not to mention other close variants that see an additional 4,180 searches/month).

Ranking 1st in organic search results for this single query (30.55% click-through rate, as of February 2021) will drive 305 qualified visitors to your website every month.
If your website has a 1% conversion rate (i.e. you convert 1% of those qualified visitors into customers, this single keyword would drive a new customer every 10 days (or 36 customers every year).
Now incorporate those close variants that see an additional 4,180 searches every month. If you rank 1st for half of these close variants, you would see an additional 66 customers every year.
How much revenue would 98 additional customers per year bring?
Related: how blogging drives sales [directly and indirectly]
---
How Does the ROI of SEO Compare to Paid Search ROI?
We regularly talk to business owners who spend the majority of their marketing budget on Google Ads. Naturally, they question why they should shift any of their marketing budget to SEO.
Google Ads can be a great advertising channel, but here's a breakdown of customer acquisition with Google Ads vs. SEO.
If you were to bid on the above keyword ("downtown Denver apartments") in Google Ads, you would pay $6.00/click for every person who clicked on your website.
Setting up Google Ads for this keyword (1.91% click-through rate, on average) would drive 19 qualified people to your website every month.
If your website converts 1% of those website visitors into customers, you would need to run Google Ads for five months to see one customer.
To add to that, that 1% conversion rate and $6 cost per click (CPC) means that each customer is costing you $600.
Google Ads is a smart investment for businesses to focus on while they ramp up their SEO efforts (and for industries such as law firms and insurance, is a smart long-term investment as well). However, switching to SEO in the long term leads to exponential growth (and much more affordable customer acquisition).
Someone investing in Google Ads vs. SEO could expect a growth trajectory like this: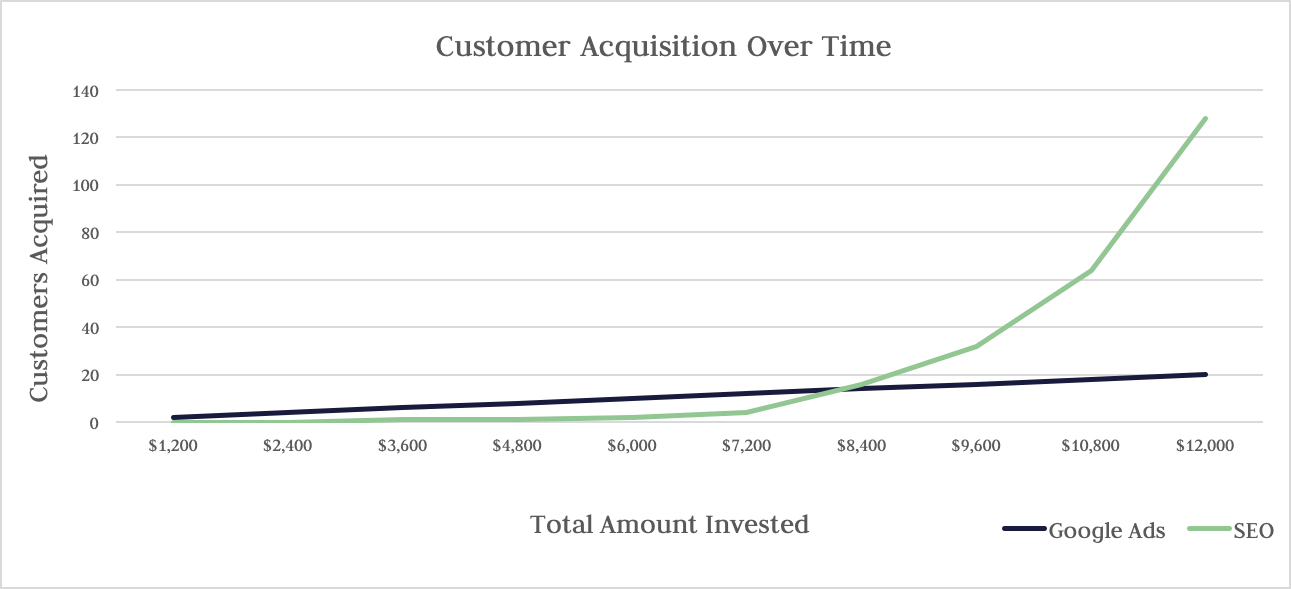 ---
How Long it Takes to See ROI from SEO
One of the most frequent questions that we hear is "how long will it take to see ROI from SEO and content marketing?"
SEO is a long-term investment in exponential growth. SEO often takes 3-6 months to gain traction. Once you start to see traction, growth is exponential.
With our Rapid Growth Service, we consistently see 100+% traffic growth year over year for businesses that see 10,000-20,000 website visitors/month, and much faster growth for companies with fewer monthly website visitors.
Related: how we helped Ridester to grow 487.1% in 20 months through SEO 
How much revenue does your business generate on an annual basis? $1,000,000? $10,000,000?
A year's worth of Rapid Growth Services will cost $35,000-$45,000. Is doubling your qualified website visitors in a year worth $45,000?
If so, learn about our content marketing services to see how we get customers to the first page of Google through long-form content.
Looking for a more conservative investment? Our Standard Growth Services consistently generate 40+% traffic growth year over year.
A year's worth of Standard Growth Services will cost $20,000-$25,000. Is increasing your qualified website visitors by 40% in a year worth $25,000?
Ready to start investing in SEO? Tell us a bit about your business so we can build the right SEO strategy to help you meet your growth goals.
SCALE YOUR ORGANIC TRAFFIC
Subscribe to our monthly newsletter